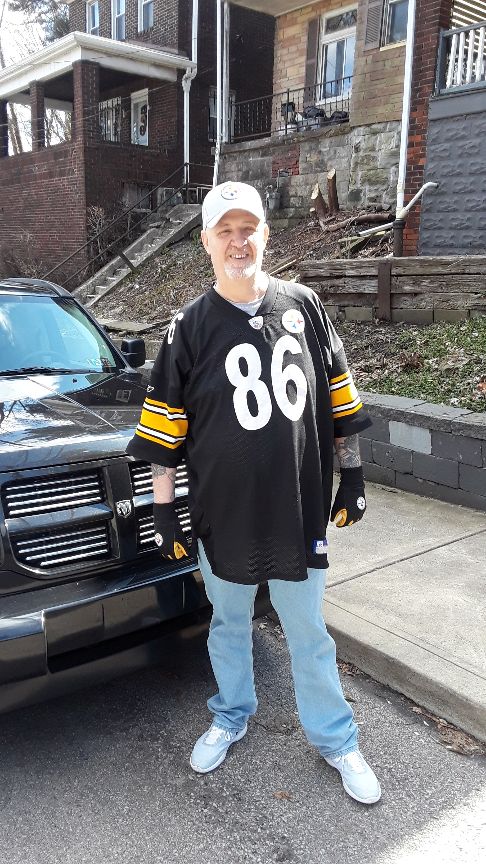 Conviction: second-degree murder, arson, aggravated assault and burglary

Number of years spent wrongfully imprisoned: 13

Age at the time of conviction: 43
Before dawn on January 17, 1993, a devastating fire broke out in the Columbia and Regal Apartment houses located at 220-230 Taylor Street in the Bloomfield section of Pittsburgh. Emergency calls began around 4:00am, with law enforcement and fire personnel arriving on scene quickly thereafter. Sadly, by 5:38am, the situation escalated to a six-alarm fire, causing catastrophic damage to both buildings and resulting in the deaths of three residents (Anita Emery, Florence Lyczko, and Christopher Stahlman), the severe injury of a fourth resident (Linda McCutcheon), and the total collapse of the northwest corner of the Columbia building into the basement of the structure.
On January 22, 1993, the Allegheny County Arson squad requested assistance from the U.S. Bureau of Alcohol, Tobacco and Firearms (ATF). in the blaze. The ATF's investigation began on January 25th. and two days later the fire was declared to be arson. It was one of the deadliest arson fires in Pittsburgh history. Several witnesses reported a white man standing among spectators, although their descriptions differed wildly.
On March 2, 1993, Keith Platek and Tammi Mancini reported to police that 29-year-old Daniel Carnevale had been staying with them for several weeks. While cleaning the room where Carnevale was staying, Mancini found checks from the Columbia Apartments. Carnevale, who had prior convictions for retail theft, and used drugs, voluntarily went to the police where he was interviewed for more than three hours. He admitted he had stolen checks from mailboxes located in the courtyard of the Columbia Apartments building, but denied setting the fire or ever going into the building. Given the circumstances, Keith Platek and Tammi Mancini asked Daniel to move out.
Carnevale said that on the night of the fire he was at the Luna Bar in the North Oakland section - a different section of the city - until about 2:30 a.m. After that, he went to a snack shop on Liberty Avenue where he had a conversation with a waitress named Joy. Carnevale said that when he left the snack shop, he heard sirens and saw fire trucks arriving at the Columbia Apartments. He said he watched while with an acquaintance and then went back to where he was staying. He agreed to give police his jacket for testing and said he would come back if police needed to talk to him again.
However, Carnevale was not contacted again. And police never attempted to interview anyone at the Luna Bar or the snack shop and never tried to find the man Carnevale said he watched the fire with, even though police had the man's full name.
Having been asked to move out of his friend's home, Carnevale decided it was time to start fresh. Carnevale's longtime friend worked on a farm in California and promised him the prospect of stable employment. Several weeks later, Carnevale moved to California where he remained until he was arrested on August 12, 2006 and brought back to Pittsburgh.
By the time that this case had been reopened in January 2006, the ATF investigative file had been destroyed as per "ATF regulation" because a suspect in the alleged arson had not been identified within five years of the crime. Additionally, portions of the original Pittsburgh police file had been lost. Despite the missing documentation, investigators did not begin the investigation anew, but instead took previous investigators' conclusions and assumptions as fact. For example, investigators did not question or even seek confirmation of the original arson determination, despite the fact that this critical determination was made thirteen years earlier and fire investigation methodologies, like all evolving scientific practices, had continued to advance over the course of the next decade. Investigators also did not attempt to re-interview initial suspects or verify purported alibis or previous statements. Advertisements were placed in the Pittsburgh Tribune Review every two weeks requesting information.
Sandra Evans saw one of the ads and told police that her brother, Shane, had information about the fire. Shane Evans testified that he immediately told fire personnel and law enforcement that he had seen Mr. Carnevale that night. Evans testified at trial that each time he had spoken to police—the night of the fire, a few days later, a few years later, and finally in 2006—he had identified Daniel Carnevale by name. Original 1993 police reports, however, contradict Evans's trial testimony. In fact, according to the original police reports taken the very night of the fire, Evans described an "unknown" white male and reported to at least three law enforcement officers that he "did not see the person's face."
Based on Evans's statement, police obtained a warrant. On August 12, Carnevale was arrested in El Dorado County while returning home from work. By this time, Carnevale had quit using drugs, had a job at a lumber mill and was married. He was brought back to Allegheny County and charged with three counts of second-degree murder, aggravated assault, arson and burglary.
On March 1, 2007, Sean Burns, an inmate at the Allegheny County Jail, told authorities that Carnevale had confessed to him that he set the fire. Based on Burns's statement, authorities believed Carnevale set the fire to destroy video cameras that might have recorded him stealing from the apartment building's outside mailboxes (something he has never denied doing). He said Carnevale admitted setting the fire in the apartment building office—not the basement mechanical room—because that's where Carnevale believed video surveillance equipment would be located.
At the time, Burns was in jail facing one count of rape of a child, two counts of indecent sexual intercourse with a person under 13, one count of aggravated indecent assault and underlying misdemeanor charges—all carrying a combined maximum sentence of 110 to 220 years in prison. He also was facing weapons charges in an unrelated case that carried a maximum sentence of 14 to 28 years in prison.
When asked by the prosecutor whether any promises had been made to him in exchange for his testimony, Burns said that he had already been found not guilty for his major charges, and would be released soon with time served for two of the weapons charges. He added that he had not received so much as a bond reduction.
Carnevale's defense lawyer did not obtain an expert to review the ATF investigation of the blaze. No witnesses testified for the defense.
On August 30, 2007, the jury convicted Carnevale of three counts of second-degree murder, arson, aggravated assault and burglary. He was sentenced to life in prison without parole.
In March 2010, the Pennsylvania Superior Court upheld Carnevale's convictions. In 2011, a PCRA petition for post-conviction relief cited new evidence; an inmate who had been incarcerated with Burns, David Dixon, said that Burns admitted to him that he had concocted the statement about Carnevale admitting involvement in the fire. The petition also claimed that Burns had in fact received favorable treatment from the prosecution: a nominal bond and a sentence of 14 months, well below the sentencing guideline of 36 to 48 months.

The petition was denied without a hearing and his appeal was denied.

In June 2013, Carnevale filed a federal petition for a writ of habeas corpus, which was denied in 2014. In 2016, the Third Circuit U.S. Court of Appeals upheld the denial of the petition, ruling that it had to defer to prior rulings in the Pennsylvania courts. The court noted that there was no physical evidence or fingerprints on the container of lacquer thinner and the case relied upon "a jailhouse informant's essentially uncorroborated testimony."

Meanwhile, in 2012, the Pennsylvania Innocence Project had agreed to review his case and, after a lengthy review, asked fire expert Douglas Carpenter, vice president of Combustion Science & Engineering, Inc., of Maryland, to look at the case in light of advances in fire science since a ground-breaking report was published in 1992 outlining a scientific approach to fire investigation. The report, called NFPA 921, discredited numerous "theories" about the causes of arson that had been used by investigators for decades but were not based on science, but rather were lore, passed down from one generation of arson investigators to the next.

Carpenter concluded that the ATF investigation was flawed. Petraitis's "process of elimination" method "has been deemed wholly unreliable" and "has been expressly forbidden by the fire investigation community."

Carpenter's investigation determined that the case of the fire was accidental and likely was the result of a malfunction in the boiler/heating system in the Regal Apartments. The system in the Regal Apartments was used to heat both the Regal and Columbia Apartments. Carpenter noted that several residents heard loud noises from the radiators, such as loud hissing and banging sounds, just prior to the fire. Since the steam pipes were routed through the buildings next to lumber, Carpenter said there "is evidence in this case to form a valid fire cause hypothesis associated with ignition of building components by steam pipes."

In June 2018, Pennsylvania Innocence Project attorneys Elizabeth DeLosa and Nilam Sanghvi filed a PCRA petition seeking to vacate Carnevale's convictions. Susan Metcalfe and Eliza Hall of Potomac Law Group acted as pro bono co-counsel.

The prosecution opposed the petition, arguing that that none of the evidence was newly discovered and therefore the petition was time-barred. In August 2019, an evidentiary hearing was ordered, but not scheduled.

In September 2019, the prosecution learned that there was a note in the ATF file which, upon further investigation, indicated that the chemical analysis of the debris retrieved from the scene showing the presence of accelerants was "meaningless" because the amounts were so low or could have been produced by the fire itself.

As a result, the prosecution said it would not oppose the granting of a new trial. On December 17, 2019, Court of Common Pleas Judge Jeffrey A. Manning vacated Carnevale's convictions and ordered a new trial.

On March 16, 2020, the prosecution filed a motion to dismiss the charges. The following day, March 17, 2020, Judge Manning granted the motion and Carnevale was released.