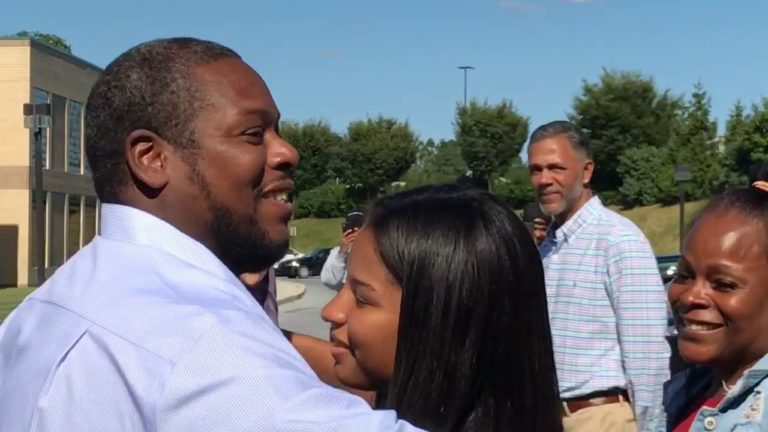 Conviction:
Murder
Number of years spent wrongfully convicted:
13
Age at time of conviction:
35
At about 10:00 pm on December 21, 2005, Duwan "Wubb" Stern was fatally shot in the head as he sat in a car at the corner of 20th and Swatara Streets in Harrisburg. Three witnesses had seen a man standing by Stern's car after hearing gunshots. No one saw the actual shooting. There was one streetlight across the street from where Stern's car was parked.
Jackie Wright called 911 and looked out of her windows at various points during the call. She said she saw a darker-skinned man and a lighter-skinned man, both of whom she described as young, pushing Stern's body out of his car. She told police that the darker-skinned man was medium build, kind of tall, and wore dark clothing; his jacket had the hood up.
Lisa Starr, who was white, was in her home across the street. She said she saw a black man walk across the street toward her. She described him a wearing white clothing and a dark jacket with fur on the hood, which was down.
Thomas Mullen and his friend Tony Ebersole were in the area trying to buy drugs from "Los." It later came to light that Mullen was the lighter-skinned man Wright saw. Mullen described the man he saw by the car with a gun as being 5'8" to 5'10" and weighing 160-175 pounds. Significantly, Mullen did not go to police with this information until the early morning hours of December 22, 2005. He was on state parole and concerned about his own situation. When he first spoke with police, he claimed he had not even been inside Stern's car the night of the shooting. Police suspected Mullen was lying and charged him with hindering apprehension and tampering with evidence.
Mullen, Wright, and Starr were all shown a photo array constructed around "Los," that also contained Trent's picture. None of them identified Trent as the person they saw, though Starr said Trent resembled the suspect.
Starr was later shown additional photo arrays, including one constructed around "Chase," who Stern's girlfriend had told police they should look into. Starr selected Chase as resembling the suspect. Starr was shown the array containing Trent again and again selected him as having similar characteristics to the person she saw.
Stern's girlfriend also reported that he had left her home around 9:00 pm that night after receiving a few phone calls. Police obtained Stern's phone records and saw three calls from a phone registered to Larry Trent Roberts that Stern received around 8:30 pm that night. They began to suspect Trent and brought him in for questioning on January 12, 2006. No one had positively identified Trent at the time of his arrest.
During his interview on January 12th, Trent acknowledged that he knew Stern and played cards with him and had called him the night of December 21, 2005. Trent told police he made these calls around 11:30 pm after hearing that something might have happened to Stern; he wanted to see if Stern picked up. When investigators said they had eyewitnesses, Trent agreed to have them view him. Detectives then brought Wright to the police station and had her view Trent in a "one-on-one" show-up. She later testified she assumed police brought her there because they wanted her to make an identification. She also told police for the first time that she had recognized Trent in the photo array.
On January 20, 2006, Mullen entered into a cooperation agreement with the Dauphin County District Attorney's Office. He then revealed that he had gone into Stern's car and looked at the body. He also claimed, for the first time, to have recognized Trent in the photo array. About a month later, Mullen finally admitted his role in pushing Stern's body out of his car.
Investigators then learned that Stern's phone records had been reported in Pacific time rather than Eastern time. Trent's calls to Stern thus did take place around 11:30 pm just as Trent had told police. Investigators also obtained information that calls Trent's phone received at 9:53pm and 10:08 pm on December 21, 2005, just before and after Stern's shooting around 10:00 pm, bounced off the Devonshire tower far from the crime scene.
Trent's case nevertheless proceeded to trial in November 2007. By the time of trial, Mullen, the Commonwealth's key witness, had his charges completely dropped. He testified that this had not been promised to him. The Commonwealth also presented Wright and Starr. Starr identified Trent for the first time, almost two years after the shooting. Wright also identified Trent in court but, when shown the photo array with his picture, selected someone else's photo as the person she had seen. The Commonwealth claimed that Trent had killed Stern over a drug transaction based on the testimony of informant Layton Potter.
At the trial, the Commonwealth and defense also jointly called a Sprint/Nextel engineer who testified that Trent's phone could not have been at the crime scene at the time of the 9:53 pm and 10:08 pm calls. Trent's trial counsel at the time did not present any alibi witnesses placing the phone with Trent. The jury convicted Trent of first-degree murder, and he was sentenced to life without parole.
Trent wrote to the Pennsylvania Innocence Project in 2009, and we began to represent him in 2013. During our post-conviction investigation, Potter recanted his trial testimony. The Commonwealth also produced e-mails of an agreement between him and the Commonwealth in exchange for his testimony; and (2) the cell phone evidence raised doubts for the lead investigating detective.

At a post-conviction hearing in 2016, the Project, along with co-counsel Thomas B. Schmidt III of Pepper Hamilton LLP and Tucker R. Hull (then at Pepper and now at the Law Office of Tucker R. Hull, LLC), represented Trent at a post-conviction evidentiary hearing. We presented this suppressed evidence, as well as testimony from Potter that he had no personal knowledge of any transactions between Trent and Stern and Trent's full alibi—namely, that Trent had his cell phone with him throughout the day and night of December 21, 2005. That day and night, Trent worked at his used car lot and went to dinner with his employees, made several calls trying to hook up with a girlfriend, and took his daughter's mother to Target. His phone records showed continuous usage of his cell phone to make calls to his friends and family.

The Court vacated Trent's conviction and granted him a new trial in June 2017. It found that the Commonwealth's suppression of the e-mails violated Trent's due process rights and that the Commonwealth's conduct in suppressing the e-mails related to Mullen's charges was "egregious." The Court also found that Potter's recantation was new evidence requiring a new trial and that Trent's trial counsel had been ineffective for failure to present his alibi defense.

After an unsuccessful appeal, the Commonwealth decided to re-try Trent for Wubb's murder. Trent's re-trial began on September 9, 2019. We continued to represent Trent along with Tom Schmidt and Tucker Hull, as well as a team of lawyers and support staff from Pepper Hamilton. This time, we presented Trent's full alibi. We were also able to present expert testimony about factors that can affect the reliability of eyewitness identifications, many of which were present in this case. Such testimony was prohibited in Pennsylvania at the time of the first trial.

On the morning of September 16, 2019, the jury announced its verdict – NOT GUILTY! The jury deliberated for about 2.5 hours. The first thing Trent did upon hearing the verdict was to express his sympathy to the Stern family for their loss. They embraced him with open arms.

A few hours later, Trent was released from Dauphin County Prison to the welcoming arms of his family and legal team. Trent's case is one of those that the Project has worked on the longest and is the first PCRA petition that Legal Director Nilam Sanghvi filed upon joining the Project as a staff attorney in 2013. Congratulations Trent and many, many thanks to our co-counsel Tom and Tucker who fought for Trent with us for 6 years.