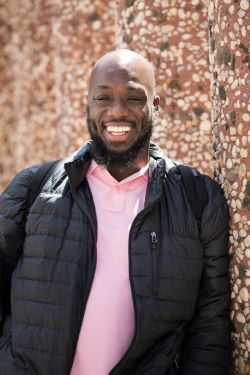 Conviction: Murder
Number of years spent wrongfully imprisoned: 24 years
Age at the time of conviction: 20
Domingo Martinez was murdered on the morning of November 13, 1990, while delivering $25,000 to one of his check-cashing stores in Northeast Philadelphia. When Martinez was murdered, Shaurn Thomas was in juvenile court in Center City. Police arrested him the night before for attempting to steal a motorcycle.
Although Mr. Thomas was nowhere near the scene of the murder, Shaurn was convicted of having participated in the Martinez murder four years after it happened.

The night before the murder, on November 12, 1990, at approximately 11:30 p.m., the police arrested Shaurn Thomas for attempting to steal a motorcycle. He was held in police custody until November 13, 1990, when his mother arrived to sign for his release. Mr. Thomas and his mother then went directly to the Youth Study Center on the Benjamin Franklin Parkway for an intake interview at 9:00 a.m. After the interview, Mr. Thomas signed a subpoena and was released. His sister then picked him up and the two arrived home in the afternoon of November 13, 1990.

That same morning, Domingo Martinez picked up $25,000 cash from a Mellon Bank branch at Ridge and Spring Garden Streets in Philadelphia. Numerous witnesses said that around 9:55 a.m., a car struck Martinez's car on the driver's side on 6th Street and Lehigh Avenue in Philadelphia. When Mr. Martinez stopped his car, three men exited the vehicle that hit Mr. Martinez's. One of those men shot Mr. Martinez through his car's front windshield.
Four people witnessed the murder. Those witnesses told police that the shooter then pulled Mr. Martinez from his car and drove the victim's car away. The other two men climbed back into the car that hit Mr. Martinez's. They described the striking car as white with a red roof. These witnesses did not have the opportunity to identify Mr. Thomas, nor did they testify in trial.

Early in 1991, Philadelphia Police Homicide investigators received a tip from an unknown source that Domingo Martinez was killed by a gang of young men known as the "G-Boys" who lived in Abbotsford Homes, a public housing project in North Philadelphia. On February 8, 1991, police took a blue Chevy into custody, hypothesizing the car was used in the Martinez murder, even though every witness had described the car as white and red.

On February 8, 1992, Nathaniel Stallworth, provided a detailed statement to detectives concerning the Martinez murder. Nathaniel Stallworth claimed that six men—Clayton "Mustafa" and Shaurn Thomas, John and William Stallworth, and two more "unknown males"—were the ones who robbed and killed Mr. Martinez. Nathaniel Stallworth had open criminal cases at the time and may have been seeking favorable treatment from police and prosecutors.

In October of 1992, Nathaniel Stallworth's cousin, John Stallworth was arrested for an unrelated robbery charge. Like Nathaniel, John Stallworth was seeking a deal with police and prosecutors. He told police that he had information on the Martinez murder. John Stallworth told police that six men, including him, committed the crime, however, he named different men than Nathanial Stallworth did.
According to John Stallworth, the perpetrators were himself, his brother William Stallworth, Mustafa and Shaurn Thomas, Louis Gay, and a man named "Nasir." John Stallworth told police that they drove in a blue four-door car and a grey four-door car when they robbed Mr. Martinez. He claimed that Mr. Gay entered the bank and returned a short time later following Mr. Martinez. The two cars followed Martinez. Somewhere in North Philadelphia, the grey car, with Shaurn Thomas in the back seat, cut in front of Martinez's car in order to block it. Clayton "Mustafa" Thomas, driving the blue car, rammed into Martinez's car, walked up to the driver's side of the victim's car, and shot Mr. Martinez.
Even though police later discovered that Louis Gay was in prison on the day of the murder of Mr. Martinez, they continued to use John Stallworth's version of events. Police took a second statement from John Stallworth in July of 1993, in which he now claimed that Mr. Gay was not involved but that an "unknown friend" of Clayton "Mustafa" Thomas was the sixth man, and the person who had entered the bank. John Stallworth agreed to testify against Shaurn and Clayton "Mustafa" Thomas and his brother William Stallworth in exchange for a guilty plea of third degree murder in return for a sentence of eight to sixteen years.
Each of the confirmed four witnesses said there was only one car involved in the crime and the Stallworths claimed there were two. Each of the confirmed four witnesses described a white and red car, neither car described by the Stallworth brothers fit that description. Each of the confirmed four witnesses noted three men as the perpetrators, the Stallworths claimed there were six. Although the information from the Stallworths differed dramatically from witness accounts, it became the basis for the case against Shaurn Thomas and his brother, Clayton "Mustafa."

In July of 1993, police charged Shaurn Thomas with the murder of Mr. Martinez. Shaurn Thomas had little memory of an alibi for the time of the crime three years later. He presented his signed subpoena from juvenile court and prosecutor argued to the jury that there was no proof the signature was, in fact, Shaurn's. The jury did not hear testimony from Shaurn's mother, sister, or the court administrator from juvenile court. All of these people could help secure an alibi for Shaurn.
On December 19, 1994, Shaurn Thomas was convicted of the murder and sentenced to life without parole at the age of 20 years old.
In August 2011, James Figorski, a lawyer at the firm of Dechert LLP and a former Philadelphia police officer, filed a Post Conviction Relief Act (PCRA) petition on Mr. Thomas's behalf with The Pennsylvania Innocence Project as co-counsel.

Together, we presented all of the evidence to the PCRA Court, asking to grant Shaurn Thomas a new trial. The Court did not allow a hearing. The judge found that Shaurn Thomas was not "diligent" in pursuing the evidence that supports his innocence. The Court also dismissively responded, "that was explored at trial," to the evidence of his juvenile court presence that proved he did not commit the crime because he simply was not there. We appealed to the Superior Court of Pennsylvania.

While Shaurn's case was on appeal, the Philadelphia District Attorney's Conviction Review Unit began working on the case. The attorneys got the Philadelphia Police Department's file and discovered 36 pages of undisclosed witness statements pointing to other suspects. Within days, Shaurn's conviction was vacated and all charges were dropped and his record expunged.