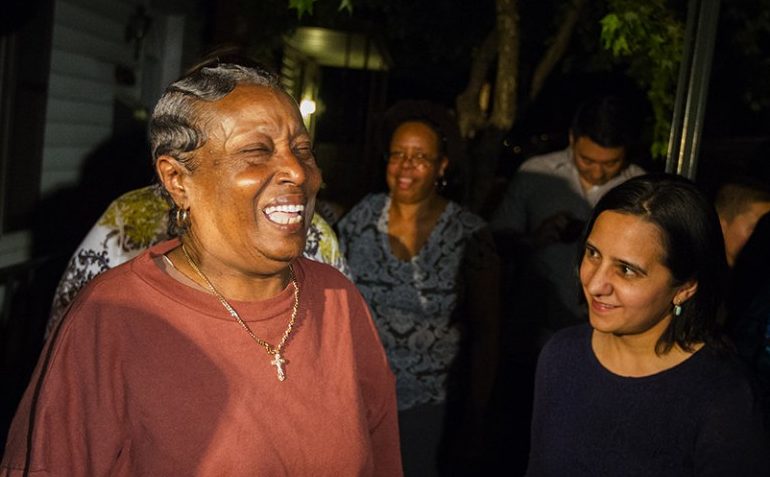 Conviction: Arson and two counts of murder
Number of years spent wrongfully imprisoned: 42
Age at the time of conviction: 20
On August 29, 1972, an apartment building in Carlisle, Pennsylvania, went up in flames. Two residents died as a result of the fire. Less than five months later, a jury found Letitia "Teri" Smallwood guilty of arson and two counts of first degree murder. Teri was a 20 year old college student with no criminal record. No physical evidence or eyewitness testimony directly linked Ms. Smallwood to the crime, yet she received a life sentence without possibility of parole (LWOP).
In April, 2015, the Pennsylvania Innocence Project secured Teri a new trial by showing the fire investigator's trial testimony was unreliable. Teri was released on bail pending the Commonwealth's appeal of that decision and a potential new trial.
Ms. Smallwood had been staying at a hotel across the street from an apartment occupied by Robert Michael Baltimore and his girlfriend, Paula Wagner. On the night of the fire, Ms. Smallwood had gone out to buy cigarettes, returned to her hotel room, and was later awoken by a friend notifying her of the fire across the street. The apartment building across the street where Ms. Wagner and Mr. Baltimore lived was in flames. Paula Wagner and another resident died, and Robert Michael Baltimore suffered from injuries as a result of the fire.
Police suspected Ms. Smallwood of arson shortly after the fire. Investigators learned that she was involved with Mr. Baltimore romantically. Investigators hypothesized that the relationship between Ms. Wagner and Mr. Baltimore was Teri's motive for the fire and death of Paula Wagner.
Witnesses claimed there was an argument between Ms. Wagner and Ms. Smallwood inside of the third floor apartment the afternoon before the fire. Another witness claimed to have seen Ms. Smallwood outside of the apartment building the night of the fire.
Ms. Smallwood denied that she was ever inside of or directly outside of the apartment on August 28, 1972. Two other witnesses, along with Ms. Smallwood, claimed that Ms. Smallwood was on Dickinson College's campus that night, not in front of the apartment building.
After the fire, Ms. Smallwood visited Mr. Baltimore in the hospital. Witnesses there claimed they heard Ms. Smallwood say, "It's all my fault," or "I am responsible for him being here," and one witness in particular claimed that Ms. Smallwood admitted to the crime while at the hospital, saying, "It's because of me the fire started."
The witness who claimed he heard Ms. Smallwood admit to the fire is now uncertain about what he heard that day. Ms. Smallwood denied any admission to the fire and maintains her words that day were simply "what ifs." She meant that if she and Mr. Baltimore had been on better terms he would have been with her, away from the fire and out of harm's way.
At the time of Ms. Smallwood's conviction, there was no uniform standard for state or local fire investigators. Fire investigation was not considered a science but viewed as an artform. The original investigator of the apartment building fire, a Pennsylvania State Trooper, relied heavily on witness statements to determine the origin of the fire. He concluded that the fire had two points of origin. This meant that there were separate fires on both the second and third floors, therefore the fire must have been intentionally set.
Teri's original defense attorney did not hire an expert to refute the arson investigator's claims. In 1992, the National Fire Protection Association published the first edition of an evolving guide used for investigating fires and explosions. This codified principles of fire investigation that relied on a scientific method.
Based on the strides made in fire investigation over forty years, Dr. Jason Sutula, an expert in the field, concluded that the original arson hypothesis constructed by the Pennsylvania State Trooper was premature and inaccurate.
Furthermore, the police investigation did not include physical evidence. Investigators did not take samples to test for accelerants at the crime scene and the photographs displayed only shots of the outside of the apartment.
Ms. Smallwood consistently denied she had any motive to harm Ms. Wagner and had accepted that Ms. Wagner and Mr. Baltimore were living together. She testified at her trial that she had not set the fire. It is Dr. Sutula's expert opinion that the cause of this particular fire should be labeled as undetermined.
We began working with Ms. Smallwood after she wrote to us in 2009 asking for help. In March 2014, Ms. Smallwood filed a Petition for Post-Conviction Relief in the Common Pleas Court of Cumberland County based on the advancements in arson science that could lead to new evidence.
On April 20, 2015 Judge Edward E. Guido ordered Ms. Smallwood's petition and ordered a new trial. The Commonwealth appealed Guido's decision to Pennsylvania Superior Court. At 62 years old, after serving 42 years in incarceration, Ms. Smallwood was released on bail.
After years of Commonwealth appeals, in the spring of 2018, the Commonwealth agreed to have Ms. Smallwood plead no-contest to lesser charges so that she can put her almost five-decade experience with the criminal justice system behind her. Ms. Smallwood was able to spend five years at home with her family before passing away in February of 2020.
Joshua Snyder of Boni & Zack LLC, the recipient of the Project's 2015 Edward D. Ohlbaum Volunteer Award, joined us as co-council for Ms. Smallwood's case.